Sometime over the years we started adding chicken to this basic pasta e fagioli recipe from Fine Cooking magazine (issue #11, 1996). Sunday I decided to try making it on my grill as an entry to this month's soup challenge on one of my online BBQ communities.
So here goes:
First, I spun a chicken on the rotisserie. I made a simple injection of melted butter, salt, and garlic powder, and then sprinkled the outside with salt and pepper.
I also tossed half a lemon and two cloves of garlic into the cavity of the chicken before trussing it.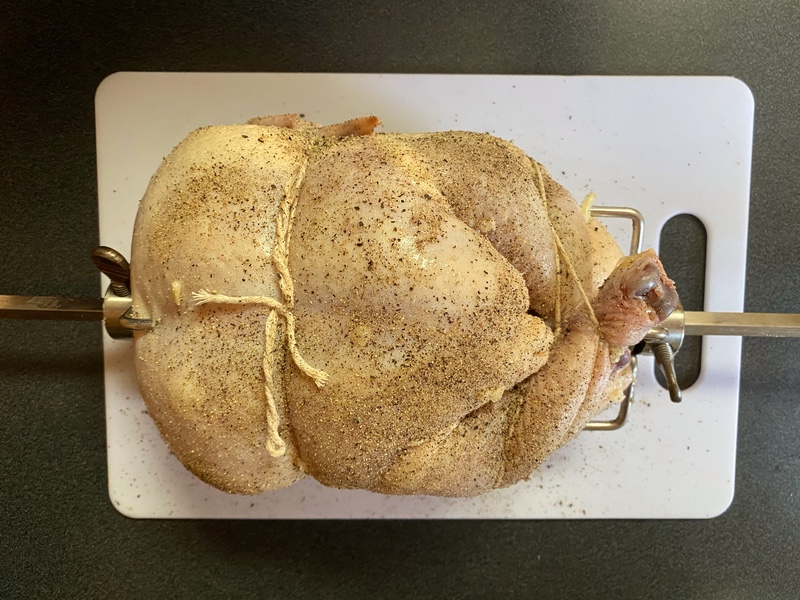 I put it on the rotisserie at 325°F, with three small chunks of cherry for smoke.
While the bird was spinning I gathered all my soup ingredients, chopped half an onion, and boiled one cup of ditalini pasta.
When the chicken was done, I dismantled the rotisserie, added more lump to the firebox, set in my heat deflectors and grill rack, and put my cast iron pot in to heat. While the grill came up and settled at around 350°F, I shredded half the chicken (and vacuum-sealed the other half for another day), and got everything set up in easy reach of the grill.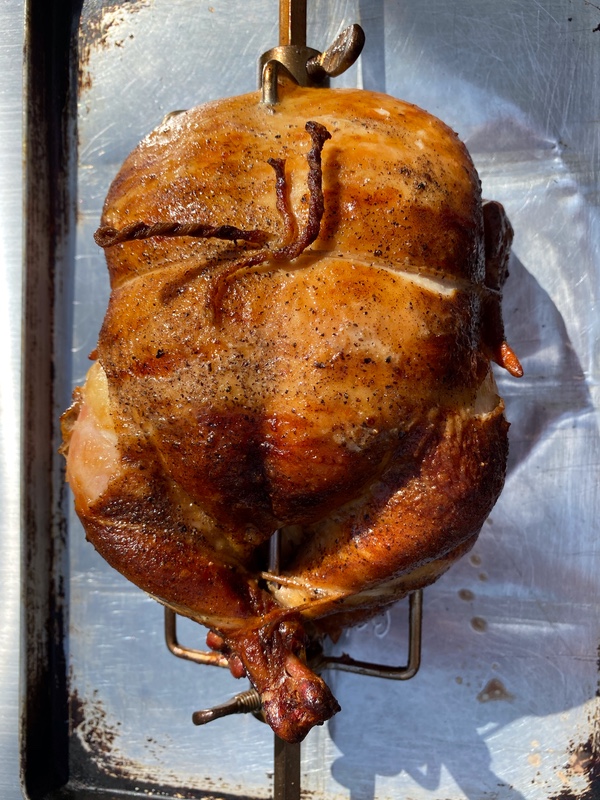 Now for the soup part. First, I sautéed 1 1/2 tsp. black pepper, 1/4 tsp red pepper flakes, and two cloves of finely minced garlic in 1/4 cup of olive oil for about half a minute or so.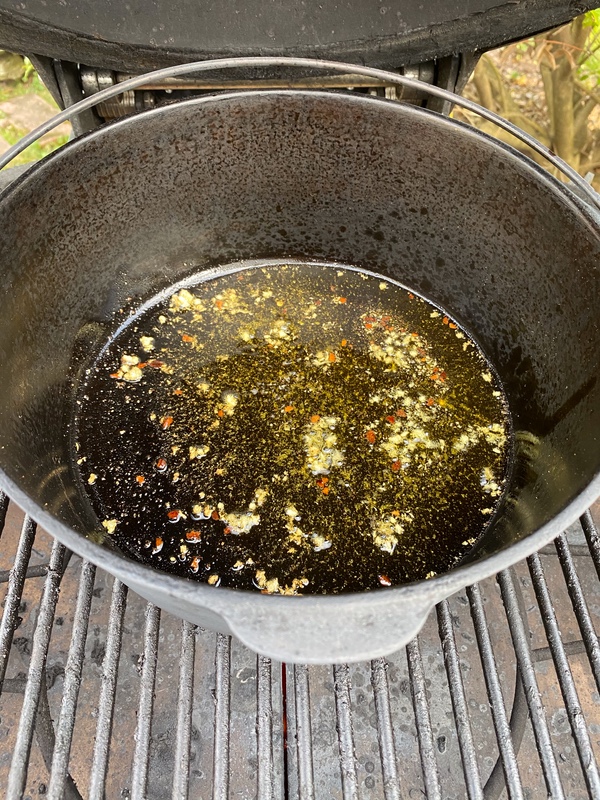 Then I added the chopped 1/2 onion, and cooked it until tender, maybe 2 or 3 minutes.
In with two cans of great northern beans, plus the cooked pasta.
Then three cups chicken stock, plus the meat.
With the lid on the pot and the grill dome closed, I let it come to a boil, which took about 30 minutes. Then I moved the pot lid sort of cockeyed and (again) with the dome closed, let it simmer for another 10 minutes.
Finally, I stirred in 1/8 cup parsley flakes, 1/2 cup grated parmesan cheese, and a tablespoon of lemon juice.
For dinner, we served it with some leftover greens and Brussels sprouts, and a good chunk of bread.
***