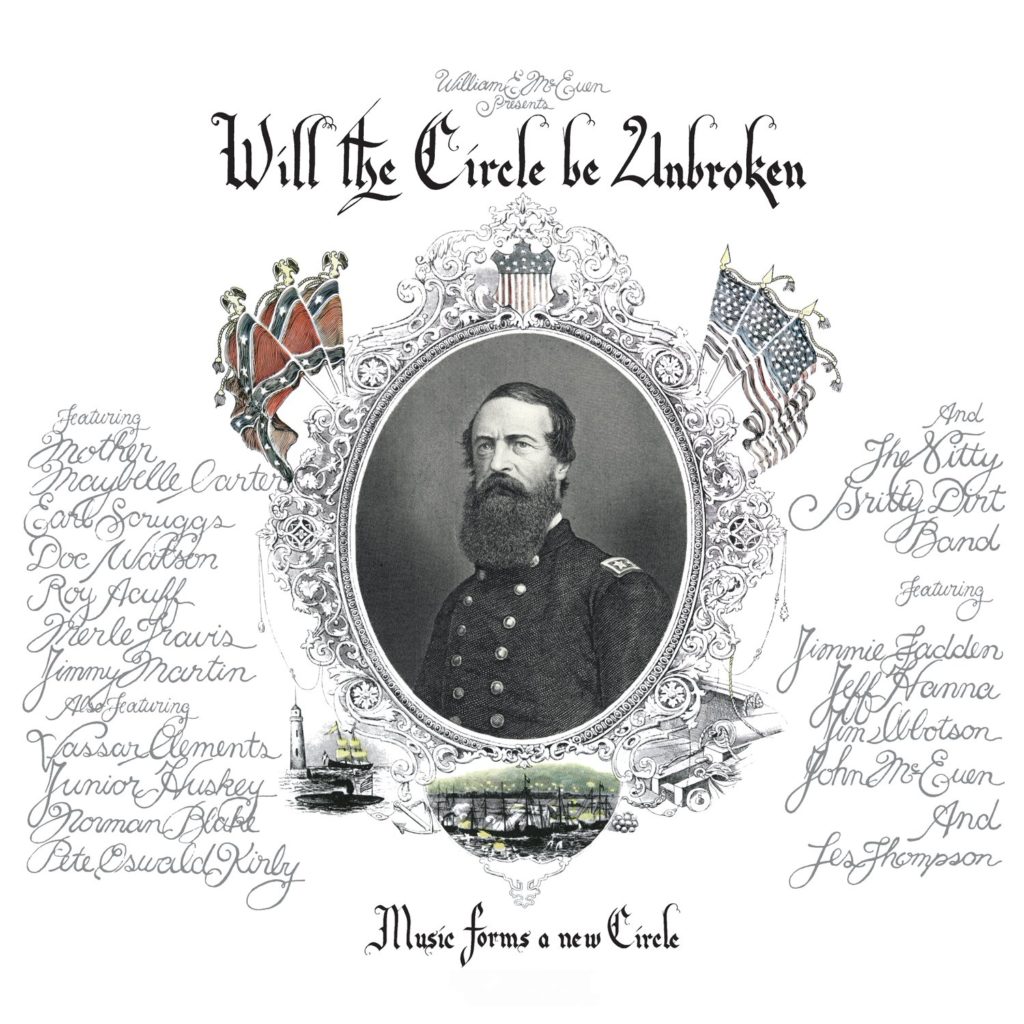 Once upon a time The Nitty Gritty Dirt Band was flying high on the popularity of their cover version of Jerry Jeff Walker's Mr. Bojangles. In 1971 the recording eventually climbed all the way to #9 on the Billboard Hot 100 chart. While that was happening, the band tried something unusual. Band member John McEuen asked Earl Scuggs if he'd be willing to record with The NGDB, and Scruggs accepted. Soon after, Doc Watson accepted the same invitation, and from there the party kept growing.
Fifty years ago this month (that is, August 1971), the band entered Woodland Sound Studios in Nashville along with Scruggs, Watson, "Mother" Maybelle Carter, Roy Acuff, Merle Travis, Jimmy Martin, Vassar Clements, Junior Huskey, Norman Blake, and Pete "Bashful Brother Oswald" Kirby, among others, and they spent six days recording together. Heading into second grade at the time, of course I knew absolutely nothing about it. Probably very few people did. But the result of that session was the landmark Will The Circle Be Unbroken triple-LP set, released in November of the following year.
There was never a time in my life when I didn't have at least a passing interest in all sorts of music, but in those days my friends and I had our heads wrapped up in the Beatles, Animals, Rolling Stones. Some of us were starting to dip our toes into Led Zeppelin. In my house country and bluegrass ruled the roost because that's what my Dad liked, and the rest of us, including myself, were totally fine with it. I was just too cool, or at least too concerned about the appearance of coolness, to admit it.
Anyway, sometime in (I'm guessing) late 1973 or early '74 my cousin, Lee Templeton, paid my Dad a visit one Saturday afternoon with a new record in hand. I'm pretty sure Lee was aware that my Dad had recently recorded a bunch of (8-Track) tapes of old, rare-to-unknown country songs from a stash of records a friend of his had removed from a broken jukebox, which made Lee think my Dad might be interested in his new find.
So off they go the basement, to the ol' console record player. Something pretty similar to this baby: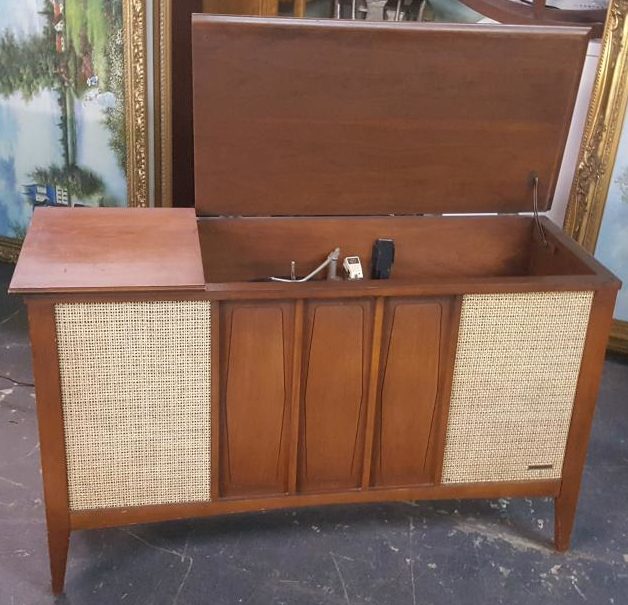 Upstairs, my afternoon loped along like any other 4th- or 5th-grader's Saturday does, until my mom asked me to go to the basement and get something from the freezer. I headed down, paying no particular mind to my Dad, my cousin, or the music, and dug around in the freezer for awhile to find whatever I was looking for. As I was about to go back up, from the stereo I heard what I now know is Doc Watson's voice say "…I'll start it out like this" just before they blasted into (again, what I now know is) Black Mountain Rag. I was dumbstruck. I don't know why, really. Doc was a big figure in our house; it certainly wasn't the first time I'd ever heard him play. It probably wasn't the first time I'd ever heard him play that tune. But it was definitely the first time it hit me like the proverbial ton of bricks.
I was still way too preoccupied with my self-perceived notion of my coolness to let on what was happening. I went back upstairs like nothing was going on, but that was the moment in my life when I realized there was much more to this music my Dad loved so much than I had ever given it credit for.
That summer I went to spend a week with my aunt June in Raleigh, a tradition that had started a year or two before. She took me shopping, and the first thing I got was my own copy of the Circle album. My aunt was NOT a fan. I imagine when it was time for me to leave that year, she was well ready to be rid of me.
By the time I went off to college, I had been playing regularly in my bluegrass band for over five years and my copy of the Circle album was worn out. I bought it again. Sometime in 1988, Suzy and I converted our music collection over to CDs, sold our turntable, and traded in all our vinyl. I kept one copy of each of my band's three records, a copy of John & Yoko's Two Virgins, and the Circle album. But since we no longer had a turntable, I bought the Circle album yet again, this time on CD. Today, all our music lives in The Cloud, so I likely won't ever have need to buy it again. But it never leaves my rotation for more than a few months at a time.
If you don't know this record, give it a spin. If you haven't heard it in awhile, spin it again. It's perfect.