Day One: Thursday 11/15/01
Arrived at Charles De Gaulle airport at around 6:30am.
After collecting our luggage, we discovered that we could not get the pay phone to work in order to call our car service. A very nice man at the service desk helped us stumble through enough conversation to get our story out, and he made the call for us. The van was waiting outside.
We were the last couple in the van to be dropped off at our hotel, so we got to see quite a bit of Paris during the ride. Even in our sleep-deprived state, we were in awe of the beauty of the city.
Although exhausted, we decided after checking in at the Residence Monceau Etoile, that we should try to get a feel for our surroundings.
We walked around our neighborhood and discovered to our delight that most of the block was an open air market. Soon we got a bite to eat at a nearby bakery, of which there were many. We walked on after our snack, just window shopping and soaking up the atmosphere.
Later, we returned to the room for showers in order to energize ourselves a bit, so that we could hopefully stay awake until a reasonable bedtime hour.
Mainly to figure out how to do it, we decided to ride the metro to somewhere. We decided that the Eiffel Tower seemed like a good goal, so we rode to Trocadero and gazed at the Tower for an hour or so. Unfortunately, we neglected to take the camera along. The weather was perfect and the view was spectacular. We waited our entire trip for another similar opportunity to photograph the Tower, but it never came.
By late afternoon, we were beginning to crash. On our way back to the hotel, we stopped in a restaurant near our metro station and had our first dinner in Paris (at around 4:30pm, a time which caused people walking past the restaurant window to look at our plates in astonishment). Our waitress was incredibly nice, and seemed to really enjoy helping us with the menu and joking around with us in English. We had heard, as everyone has, that the French are particularly reluctant to deal with Americans and to speak English, but that certainly was not the case with her (or with anyone else we encountered on our trip).
We each had salmon with green beans and rice, all of which was smothered in a burre blanc sauce. We shared a 1/2 carafe of wine, and finished with coffee. It was a delicious end to an exciting day, albeit only about 5:30pm.
At this point we had been awake for over 30 hours. We returned to the hotel, were in bed by 6:00, and asleep by 6:01.
***
Day Two: Friday 11/16/01
We spent a leisurely morning walking around our neighborhood and the nearby area known as Pigalle. Pigalle was the nearest attraction to where we were staying, and seemed as good a starting place for our visit as any. Known mainly as the location of the famous Moulin Rouge, it was a fairly low priority for us. However, we were expecting a good friend of ours, Frank Caravella, to arrive the next day. He had been to Paris before, and of course there certain major sites we all wanted to see together.
Later in the morning we rode the metro to the Arc de Triomphe. Our intention was to buy a 5-Day Museum Pass and use it to tour the Arc, but we were horrified to learn from the person at the Office of Tourism that the museums were considering a strike for the following day. He would only sell us a 1-day pass, because he didn't know if there would be any museums open after that day.
Obviously, this changed our agenda immediately. We decided we had to see at least two museums that day, regardless of how exhausting that might be.
We had a quick lunch on the Champs Elysee, and hustled our butts off to the Louvre as quickly as we could go. We had a self guided tour of the Louvre in our guidebook, but trying to follow it was a challenge. The museum itself is so large that it's sheer size is confusing. In addition, it is under constant renovation, so any given artwork (or gallery) may not be where it should be at any given time. Nevertheless we managed to see most of what was in our book, and, of course, myriad other things as well.
(click on an image)
Before we left the States we learned that the Pompidou Center was holding an exhibition of mainly figurative works by Jean Dubuffet, one of our favorite artists. When we finished at the Louvre, we rushed to the Pompidou, where we learned that the Museum Pass we were trying to use only covered the permanent collection. Since the Dubuffet show was a temporary show, it required an additional ticket. That being the case, we saw the permanent collection with our pass and then visited the Dubuffet show afterward.
This was easily the toughest day of our trip. We were terrified that the museums would close during our trip, and physically drained from cramming two HUGE museums into one day.
As it turned out, the museum workers didn't strike, and the Museum Passes were available for the rest of our trip.
***
Day Three: Saturday 11/17/02
Miraculously, we woke up refreshed and at a reasonable hour on Saturday.
We began the day at Sacre Coeur, a cathedral atop Montmartre, which is the only real hill in Paris. We climbed what we thought then were the most possible stairs a human could climb at any one time. (We would later learn that this was not true.) This cathedral overlooks the city, but the morning fog had not burned off and we could not get a good picture of the view.
Photos were not allowed inside, either, so unfortunately we only have exterior shots of our first cathedral visit in Paris.
After our visit to Sacre Coeur, we followed a walk through the Montmartre area that was laid out in our guidebook. It's a beautiful area, and we'd love to explore it more in the future.
(click on an image)
At noon, we met our friend Frank at his hotel and walked through the nearby open-air market, the Ru Cler. Our guidebook says that at any point in Paris, you are within 500 meters of a metro station. I'd guess that at any point in Paris, you are within arms reach of a bakery. A really good one. We all grabbed a pastry (or two) and then headed out for another museum visit.
The Musee d'Orsay was once a train station. Sometime in the '70's it was nearly torn down, until someone realized they could use it to house all the 19th century art that was, at the time, scattered about the city. It is now one of the most beautiful museums we've ever seen. In addition to the numerous famous painting housed in it, we found several wonderful pieces by artists we had never heard of.
(click on an image)
Later in the evening, we returned, with Frank in tow, to the Pigalle area. In addition to the Moulin Rouge, Pigalle is home to the Parisian red light district. Unlike here in the States, this is not hidden away and frowned on in Paris. It is a bustling area in a busy part of town, where these establishments (book shops, video stores, bars, night clubs, etc.) are just another part of city life. It's hard to imagine more neon signs and lights in any one place.
***
Day Four: Sunday 11/18/01
Up at 5:30am in order to get to the train station for the 7:45 Eurostar to London.
Frank spent a week in London last year, and when we discovered his Paris trip would overlap ours, we all decided he could give us a whirlwind tour of London if the Eurostar rates were reasonable, which they turned out to be.
We arrived in London at about 10:30am, and headed for the Tate Museum, where we saw the inaugural exhibition of Victorian figurative art in the Tate's newest gallery for temporary exhibitions. As we walked, we saw the Houses of Parliament , Big Ben, and the rear entrance to Westminster Abbey.
We had a fabulous meal at a Belgian restaurant called Belgo Centrale, where Frank got another punch on his "Buy 5 Get One Free" card from his trip last year. Three more trips and he gets a free meal!
After dinner we walked around the area, window shopping and planning what to do next.
We decided to go see the Tower of London, where various and sundry ne'er-do-wells were once tortured and/or beheaded. We were too late for the tour, but it was a great old castle to look at.
As evening came, we went to St. Paul's Cathedral, which is technically not open to visitors on Sundays because services are being held. Luckily, there was an organ recital open to the public before the evening service, so we went in and got a look around. We assume that if we had gone during regular tour hours we would not have gotten to hear the organ at all.
We walked along the Thames back toward the train station and had desert at another restaurant Frank had visited last year. By 1:00am, we were back in our beds in Paris.
***
Day Five: Monday 11/19/01
We slept in a little on Monday, then took the metro to see the Arc de Triomphe, which we had not toured on Friday because we were told of the possible museum strike. After gazing on the Arc and taking the requisite photos, we strolled the Champs Elysee, window shopping and reading the historical information about the area in our guidebook. We also stopped for a cappuccino, which we had begun to do fairly regularly by this time in our trip.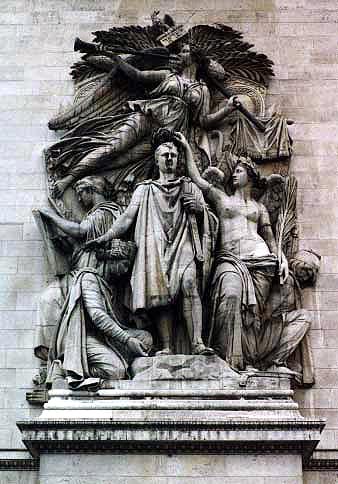 Around 11:00am we met Frank at Notre Dame. We've all heard and read about how wonderful Notre Dame is, but it truly has to be seen to be believed. Whatever you may have heard or read about it, however many pictures you may have seen, the beauty and intricacy is still nothing short of astonishing.
(click on an image)
Although we had not originally planned to, we decided after seeing the cathedral that we'd climb the Tower. There is no warning that it's 400 (spiral) stairs. Or that they are so narrow that you must squeeze past anyone who happens to be on their way down while you're on your way up. About halfway up, there is, mercifully, a gift shop. Without this rest stop, we may not have made it, and that would have been a terrible shame.
We all agree that the views from the gargoyle level were the most spectacular sight we saw on our trip. It is unfortunate, as always, that the photos are such a pale imitation of the actual experience.
(click on an image)
At the end of the gargoyle-level walkway, there is a door from which you can return to ground level (via 400 more spiral stairs) or, if you're game, ascend another 125 stairs the the very top. Of course, once we had gone that far we couldn't resist the challenge to go all the way.
(click on photo)
Curiously, we all agreed after our visit that our legs actually felt better (once we regained any felling in them at all) from the workout.
We had a quick lunch and the visited the Deportation Memorial, a monument to the French who lost their lives in the Holocaust. The memorial is designed in such a way as to make you feel the isolation and despair that these victims felt, and it succeeds in doing so. We were out of film when we were there, but we may not have felt comfortable taking pictures, anyway. It was very moving, especially in light of the current situation in the world.
Next we went to see what our guidebook calls "the triumph of Gothic church architecture," Saint Chapelle. By the time this church was built, architects had figured out that the flying buttress itself was all the structure required to hold the church up. Since that was true, the walls of the main chapel of Saint Chapelle were built entirely of stained glass. Every window consists of numerous circular scenes, each one depicting a different story from the Bible. Starting with Genesis, the whole Bible is depicted, through the coming of Christ, and finishing with the end of the world in the rose window at the back of the church.
(click on an image)
Later on, we decided to go back to the Louvre and wander around in some galleries we'd skipped the first time. We also had not seen the grounds on our earlier visit, because we had taken the metro, which leads directly in to the museum.
(click on an image)
We also tried to visit the Samaritan department store, but it had closed for the evening. Time for dinner and bed.
***
Day Six: Tuesday 11/20/01
After breakfast, we took the metro back to Trocadero to see the Eiffel Tower again. As I mentioned on the Day One Page, we were hoping to get a chance to photograph it in good weather, but that didn't happen. It was cloudy and damp, and the photos are less than we'd hoped for. Still, it must be said that the Tower is much more fascinating than either of us had expected it to be. The details are beautiful, and the scale is overwhelming. And at night, when lit up, it's unlike anything else.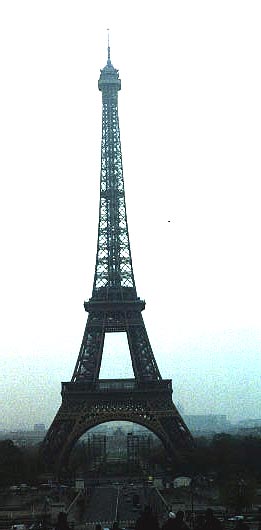 Mid-morning we went to the Pere Lachaise Cemetery. A friend had told us before we left the States that this was not to be missed, and she was right. This is the famous cemetery where so many historic figures are buried, including Bizet, Modigliani, Oscar Wilde (who's monument is covered in lipstick kisses), Delacroix, Gertrude Stein, etc. For us, though, it was more of an architectural find. The stones and monuments were extraordinarily beautiful, and they were everywhere. We tried to take photographs to convey the sheer number of markers, but it just can't be done. Like the Eiffel, neither of us had expected to enjoy this as much as we did.
(click on an image)
That afternoon, we did the "Marais Walk", as detailed in our guidebook. This is a walk through an area of Paris that was not changed, as much of the city was, in the 1800's, when Napoleon and Haussmann widened many of the streets to make broad boulevards, capable of accommodating artillery and army ranks and too wide to be barricaded. It's a pleasure walk, and the only real sites to see are the streets you're walking on and the buildings and courtyards you pass along the way.
(click on an image)
The Marais Walk ends up back at the Pompidou Center, which we had not yet seen in the daylight, and which requires daylight for it's full effect. In order to maximize interior space, all systems are built on the outside of the structure, and color-coded. Very brightly color-coded: blue pipes are air conditioning, red is for elevators, green means plumbing, yellow is (caution) electricity, etc. It's a pretty wild site to see.
Nearby is Homage to Stravinsky, a fountain dedicated to the musical works of Stravinsky. It's basically a large pool with several small fountains placed throughout, each representing one particular Stravinsky piece. We enjoyed the fountain, though we don't know the works represented, at least not by name. Over dinner that evening, we were assured by Frank, who is a composer and music teacher, and who knows the Stravinsky pieces well, that he can see no discernible connection between the fountains and the music, anyway.
(click on an image)
From there we returned to the Samaritan department store and did the only real shopping we did on the whole trip. And yet we still didn't buy anything other than a couple pairs of fancy socks for Suzy.
To finish the day, and our trip, we met Frank at a restaurant called Leo de Lion for dinner. It has changed management (and raised prices) since it's recommendation in our guidebook, but it was still wonderful. We each had a salad to start, (Frank opted for an escargot soup), followed by the special of the evening: salmon stuffed with leeks and mussels. We each had dessert: Frank and Monty had puff pastries filled with cream cheese and covered in chocolate, Suzy had creme brulee with vanilla ice cream. It was late and we were stuffed, so we declined coffee after dessert.
We said goodbye to Frank, returned to our room, and packed for the trip home the next morning.
******