I've known my friend Doug for close to 20 years, I'd guess. We met through our wives, who are very close friends, and Doug and I have a number of common interests. We both have broad musical tastes, and there's enough overlap that we talk music a lot. We even started a recording project together at one time, although it never really went anywhere.
Back in the early '80s, before I met him, Doug was a member of a band called 3 Teens Kill 4. They gained considerable recognition and became somewhat influential in the New York indie scene of the day, partly because one of their founding members was the artist and writer David Wojnarowicz and partly because they were just a really good band. They made some recordings, did some touring, and generally made a name for themselves.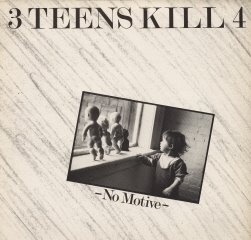 Yet somehow during all the years Doug and I have known each other, I managed not to hear any of the Teens' music.
Last year they got together for their first-ever reunion show, along with a number of other bands, as part of a tribute night for The Mudd Club and other venues of that early '80s "post-punk" era. My wife and I were very excited about it, but in the end the Teens' time slot was pushed further and further back until they wound up going on at 2am or so. On a work night. There was a time in my life –I can almost remember it– when that wouldn't have seemed like a problem to me. Alas, that time is long gone, and I didn't make the show.
The success of that reunion, though, sparked the opportunity for the Teens to do a series of three performances during this year's Howl Festival in the East Village at the end of October. Of course my wife and I saw this as our opportunity to take some of the sting out of having missed the Mudd Club show. Little did I know.
Just a few days after Doug told me about the gig, he sent me a text message saying they were searching for backup singers and asking if I'd help them out. And so it was that I began to rekindle my rock-n-roll career at the tender young age of 48!
For the next week, I spent my commute into the city listening on my iPod to the songs we were to learn. Then the following week I listened each morning on my way in and, after work, spent each evening rehearsing with the band and two other backing vocalists at Funkadelic, a rehearsal studio mercifully located just a block away from my office. It was a whirlwind week of meeting the band, learning our parts, and putting it all together. It was kind of exhausting, but tremendously fun. They were calling the show In Peace and War, 3 Teens Kill 4, and eventually my fellow backing vocalists and I were christened The In Peace and War Choir.
Our first performance was on a Thursday evening. Setup took a bit longer than planned, and as a result our first full run-through of the show was the performance itself. Everything went well and it was a good show, which was quite an accomplishment given what a production it was: In addition to the music itself, the show also incorporated films, several dancers, a slide projector, sound samples, an overhead projector, a PowerPoint presentation, and audience participation. There were a lot of things that could go wrong, but none of them did.
Friday night's show was even better. The sound man and stage director made a couple minor tweaks, and of course we all had a complete performance under our belts. Everything ran a little smoother, and we were better able to find our groove.
Then on Saturday morning it snowed. Remember, this was in October. The leaves were still on the trees. And therein lay the problem.
When it first started to fall, I didn't think much about it. This is northern New Jersey, after all. Snow is just a given, and generally poses no more than a minor inconvenience. And this time it wasn't even deep.
Late in the morning I ordered takeout for lunch, the idea being that I'd have a good meal with my wife and then later in the city I could just grab a quick bite for dinner before the show. Turns out that the weight of even that smallish amount of snow on the leaves of all those trees adds up to some very serious damage. We drove for over an hour to pick up our food from a restaurant that is less than a mile from our house. Streets were blocked by fallen trees, live electrical wires were down all over town, stoplights weren't working and traffic could barely move. As we ate our now-cold lunch after finally getting home, we stared out our dining room window as a tree fell across our car in the driveway. Shortly after that we heard on the radio that all NJ Transit trains had suspended operation until further notice. I was dead in the water.
Fortunately for our audience, all the other people in the show live in the city and had no trouble at all getting to the theater. I'm told that evening's final performance was successful as well, and I'm sure it's true. I'm just so terribly sorry to have missed it. I can't be completely sure, but I believe this was the first time I've ever missed a gig in over 30 years of performing. And it had been so much fun….