Finding myself with a week off at Independence Day and having nowhere to go and nothing to do thanks to the restrictions placed on us by our ol' pal COVID-19, I decided to cook up a bunch of stuff to vacuum-seal for future weeknight meals. On Monday, for no particular reason, I did a twofer. First up:
Kamado Braised Short Ribs
For this cook I used boneless beef ribs, which I often get at Costco. Other times I've made it with regular bone-in short ribs and it works exactly the same way, so use whichever beef ribs you can get your hands on.
Also, this is basically a stew, so if you're playing along at home don't feel compelled to follow my directions to the letter. Add what you like, and leave out anything you don't. I make it different every time, but Monday I pretty closely following a recipe from John Setzler, of the Kamado Joe Cooking Channel on YouTube, and owner of KamadoGuru.com. I love his saying: "Cook more, measure less."
Anyway, on to the recipe.
The night before you plan to cook, take about 1 1/2 – 2 lb. of beef ribs and coat them good with BBQ rub. (You could just as easily use plain old salt and pepper, or any other beef rub that suits you.) Bag them up tightly, getting as much air out of the bag as possible, and keep them in the fridge overnight.
On cook day, while you wait for the grill to heat up to around 250°F, slice the ribs into pieces, maybe twice as big as bite sized. If you're using bone-in ribs, just cut them into single ribs. When the grill reaches temp and the smoke is rolling nicely (I used hickory), put the slices in over indirect heat and let them smoke for an hour.
While the ribs are smoking, prep the braise. Dice up one onion, and chop two carrots (this time I used heirlooms) and three stalks of celery. Heat a 1/4 cup of olive oil in a dutch oven, and cook the onions gently until they're translucent. Add the carrots and celery, and stir occasionally until they're tender.
When the ribs have smoked for an hour, remove them from the smoke and boost your grill temp to around 325º-350ºF.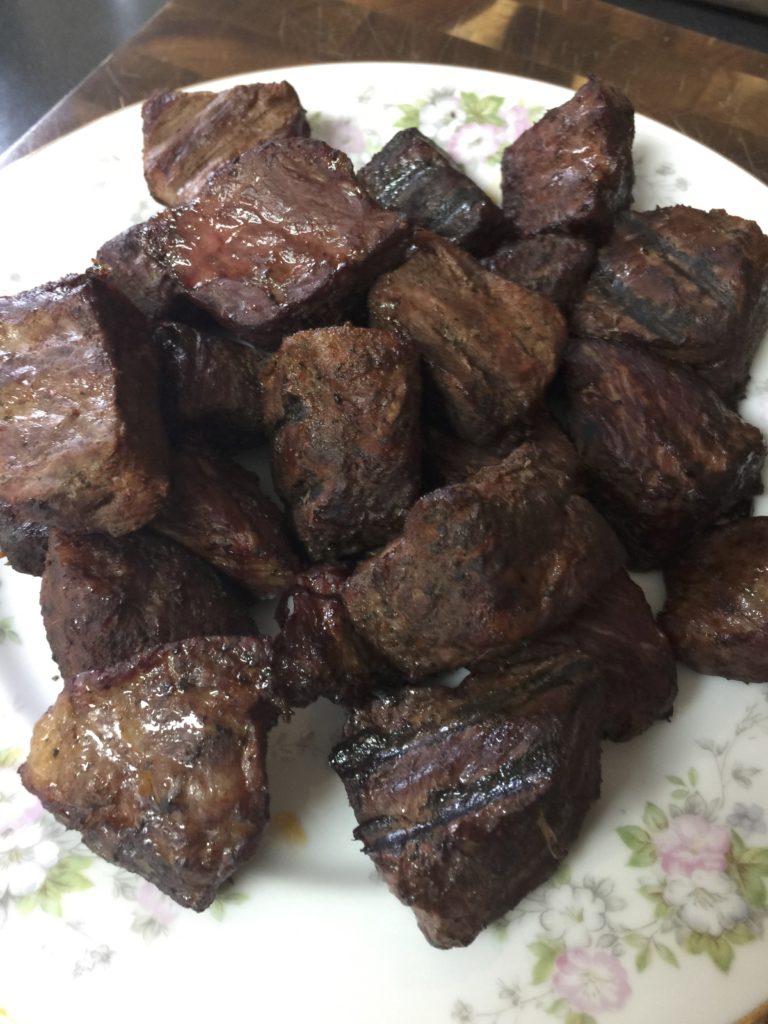 While the grill is coming up to temp, go back to your pot and add one cup of chicken stock, two cups tomato sauce, 12 oz. of beer, some rosemary, thyme, and oregano, and a teaspoon of garlic powder. Bring it to just boiling, and add salt, pepper, or other seasonings to taste. (Keep in mind that the flavors will intensify during the cook as the braise reduces. Go easy on the salt.)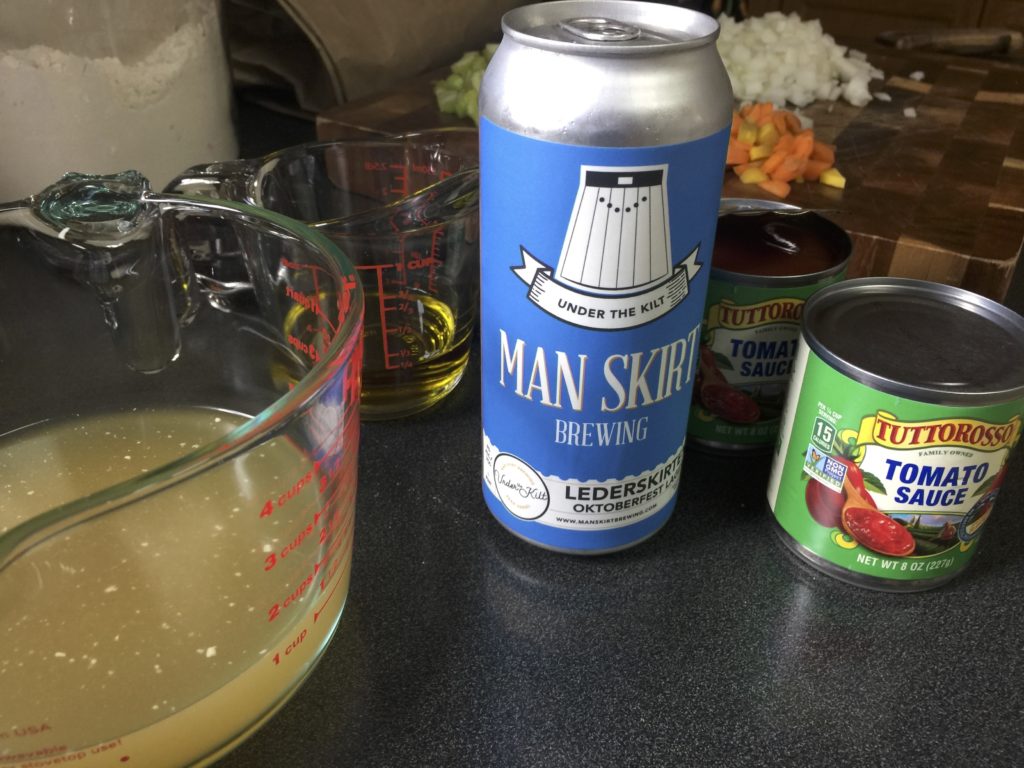 When it just reaches a boil, stir in the smoked ribs.
Put the pot in the grill and let it cook undisturbed for a half hour or so, then give it a stir, cover it with the lid, and cook for another hour.
After that hour covered, you'll have a thick, dark, rich dish, ready for serving. Most often we serve this over rice, but this time we needed to use up some potatoes. Doesn't matter; you can't go wrong.
*
The second dish I cooked Monday was
Arroz Con Pollo
This meal is usually all cooked in one pot. Monday, though, since I already had the grill fired up and at my disposal, I changed it up a bit.
Start out with a pound and a half of chicken parts. The original recipe, which I found in Fine Cooking magazine issue #37, calls for bone-in parts, but we almost never have those on hand. We always have boneless skinless breasts, so that's normally what I use. Also, to make it a little easier to eat when the time comes, I cut the breasts into more manageable pieces. Maybe two times bite sized, like I said above with the beef ribs.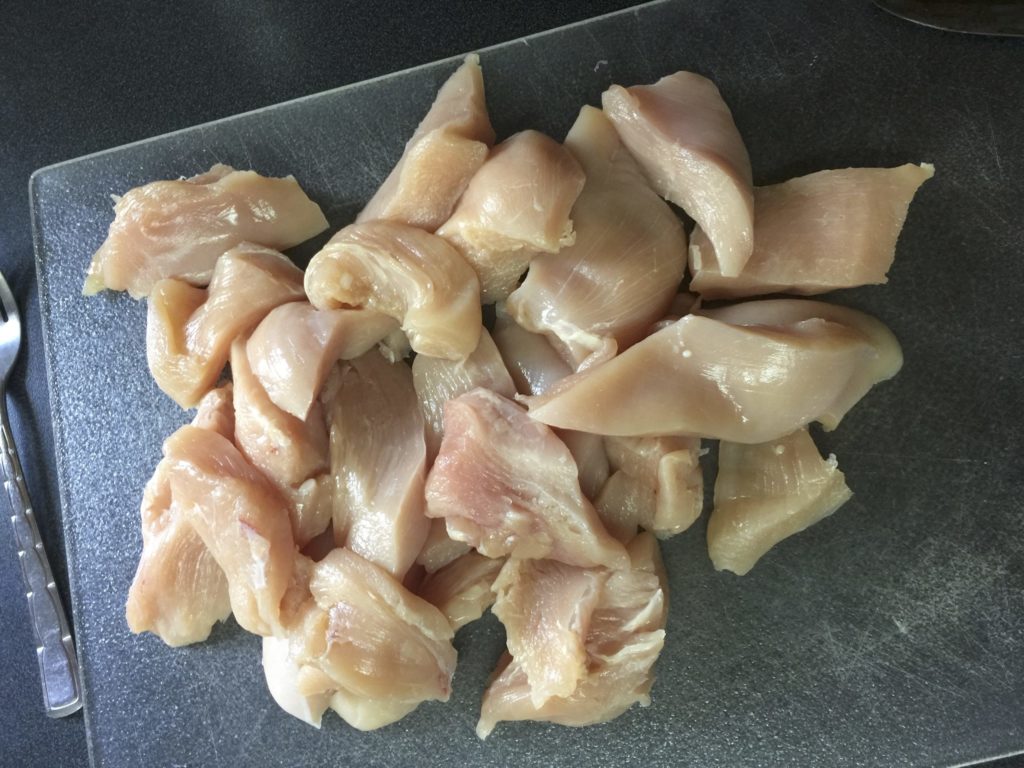 Give the chicken a good solid sprinkle of salt & pepper.
Also, take about pound of Italian sausage –hot or mild, or a combination of both– and cut them into roughly 2-inch pieces.
Now, normally you'd heat some olive oil in your pot and sauté the chicken. If you're using chicken parts, you want them done and starting to brown. If, like me, you're using boneless skinless breasts, you want them to be ever so slightly underdone. They're going to get a few more minutes' cooking time later in the process, and if you get the skinless chicken completely done now, it will dry out when you get to those last few minutes. Either way, when the chicken is ready, remove it from the pan. Put the sausages in and cook until done. Add more oil along the way if needed.
Again, that's all according to the recipe. But as I said before, Monday my grill was hot and I had plenty of extra room, so I cooked the chicken (again, stopping just short of done) and the sausage over indirect heat at about 350ºF.
Otherwise, though, I followed the recipe like normal.
In the aforementioned large pot over medium heat, add about 2 tablespoons of olive oil (which you'd already have if you cooked your chicken and sausage in the pot) and sauté one small chopped onion and 4 minced cloves of garlic until tender, about 5 minutes. Add 1 tsp. ground cumin, 1/4 tsp. paprika, 1/4 tsp. chili powder, and 1/2 tsp. ground turmeric, and stir for a minute or so to distribute it throughout.
Add a can of crushed (or diced) tomatoes, with their liquid, and 1/2 cup white wine or beer. Bring the heat up to medium high and cook for two minutes. Then add 2 1/4 cups chicken broth (or water) and 2 cups uncooked rice. Bring to a boil, stirring occasionally. Return chicken and sausage to the pot and stir to distribute.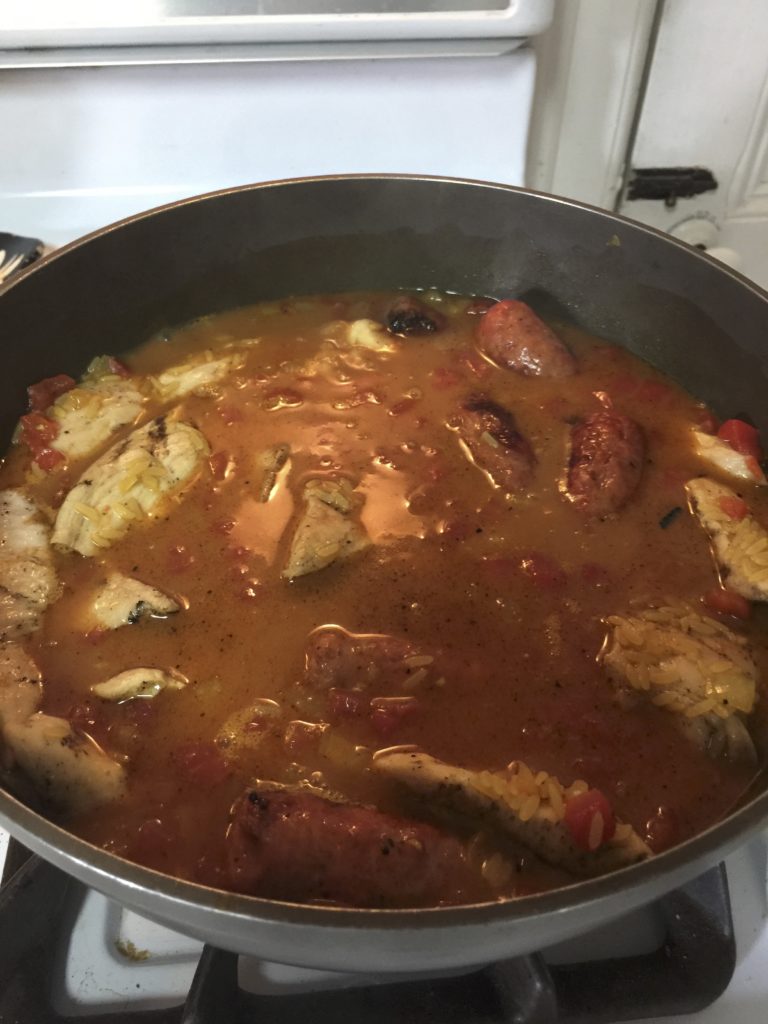 Reduce heat and cook, covered, at a mild simmer for 15 or 20 minutes until the liquid is absorbed and the rice is done.
***